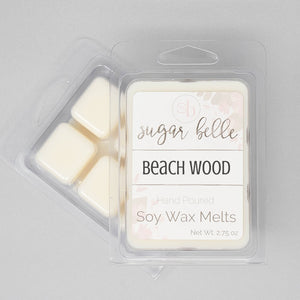 Beach Wood Scented Soy Wax Melts
This earthy scent is a nice balance of wood, amber and musk with a light layer of lemon and eucalyptus. Close your eyes and picture yourself walking down a peaceful beachside trail!
Sugar Belle soy wax melts are hand poured in small batches. Each fragrance is tested in a variety of wax warmers to ensure great scent throw! Scented wax melts are an excellent flame free alternative to scented candles.
Shop our entire scented wax melt collection here.
Product Information:
Net Weight: 2.75 oz
Ingredients: Soy blend wax. Fragrance oils. Clamshell packaging.
Directions for use: Place 1-2 cubes in your wax warmer and enjoy!
Handmade in Tennessee!